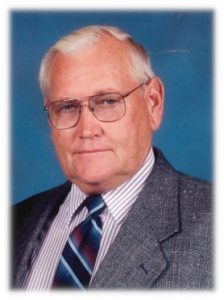 Glenroie John Pruss, 85, of Dillsboro passed away Sunday, March 12, 2023 at Shady Nook Care Center. Glenroie was born on Thursday July 22, 1937 in Milan; son of Walter and Emma (West) Pruss. Glenroie married the love of his life, Marie (Ulmer) Pruss, on May 31, 1958 and she preceded him on October 7, 2020. Glenroie worked as an Electrical Engineer for Cincinnati Gas and Electric Company, retiring after 34 years. He was a member of St. John's Lutheran Church of Farmers Retreat. Glenroie was a volunteer with the Friendship Fire Department, an EMT with the Dillsboro Life Squad and helped Paul Filter at the Dillsboro funeral home for many years. He also had his own business, Glen's Repair Service, for many years, worked security at the Rising Sun Casino, and was the go-kart crew chief for R & L Racing. Glenroie liked to go on cruises, he and his wife took a cruise to Hawaii for their 25th and 60th anniversaries.
Glenroie will be missed by his children Glenda Bryant of Fairfield, Ohio, Ronald (Janice) Pruss of Milan, Indiana, and Angela (Ronald) Crouse of Cleves, Ohio; grandchildren James (Brittany) Bryant, Rachel Pruss, Michael Pruss, Bradley Traylor, Brandy Crouse, and Braden Crouse (Dustin); great-grandchildren Hunter Traylor and Miles Bryant; and dog Toby.
Glenroie was preceded in death by his parents Walter and Emma Pruss; wife Marie Pruss; son-in-law Larry Bryant; brothers Norman Pruss and Elmer Pruss; and sisters Elvarene Fox and Grace Wickizer.
Family and friends may gather in remembering Glenroie from 10:30 AM-12 PM Friday, March 17, 2023 at the St. John's Lutheran Church in Farmers Retreat; 7291 IN-62, Dillsboro, IN 47018. A service will immediately follow at 12 PM with Reverend Jared Tucher officiating. Memorials may be given in honor of Glenroie to the St. John's Lutheran Church Cemetery Fund.
Filter-DeVries-Moore Funeral Home has been entrusted with arrangements: Box 146, Dillsboro, IN 47018, (812) 432-5480. Please visit our website at www.filterdevriesmoore.com to share your condolences and memories of Glenroie.