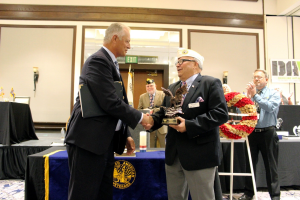 (Statehouse) – State Rep. Randy Frye (R-Greensburg) was presented the Legislator of the Year Award by Disabled American Veterans on Friday, June 2 at the Marriott East Convention Center in Indianapolis.
The organization recognized Frye for authoring House Enrolled Act 1034,  a new law that provides tax relief to active-duty military members, and House Enrolled Act 1056, which establishes a second Indiana Veterans Memorial Cemetery in the state.
Both measures were approved during the 2023 Indiana General Assembly session and signed into law by Gov. Eric Holcomb.
Frye is chair of the House Veterans Affairs and Public Safety Committee.