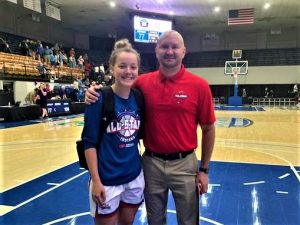 Last week, we mentioned East Central's Josie Trabel who made some nice contributions off the bench during the Indiana Junior All-Star's win over Kentucky.  Well her teammate Hope Fox saw playing time in both senior all-star games against the Bluegrass gals.
Fox scored two points on her only field goal attempt during Indiana's 67-66 victory in Owensboro, Kentucky.  She also collected four rebounds, two assists and a steal.
Westfield's Alyssa Crocket hit the game-winning bucket with just over two seconds left from 10 feet out.
During the rematch up in Southport, Kentucky handed the Indiana ladies a 101-76 defeat.  Indiana made just 11-of-36 attempts from beyond the arc.  Fox finished with five points, six boards, a dish and a swipe.
Fox and Trabel are the first-ever Indiana Senior and Junior All-Stars (repsecitvely) in Lady Trojan program history.  Coach Kevin Moore was an assistant on the senior squad.