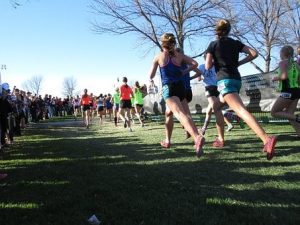 The first Southeastern Indiana Racing Circuit event is coming up Saturday, June 25th in Rushville at 8:30 am.  The SIRC 5k run/walk races help support local cross country programs across the area.
Rushville High School Cross Country and the Lions Pride Running Club are hosts of race number one.  It will start and finish at Benjamin Rush Middle School (1601 Sexton Street).
Amy Tush, head coach of RCHS Cross Country adds that around 10 am, prior to awards, kids nine and under are invited to race a 200 meter dash at John D. Wilson Track in honor of the Rushville Bicentennial.  The fastest Rush County School girl and boy will earn the title "Fastest Kid In Town" and win a bike to ride in the summer parades.
Future SIRC races:
East Central- July 9
South Dearborn- July 16
Franklin County- July 23
Milan- July 30
Batesville- Aug 6
Tush said, "There are great prizes and a fun atmosphere unique to each race.  All of this was created by the Greg and Carolyn Stiart in honor of their daughter Mackenzie.  Joining this circuit was one of the first things I wanted to start when I returned to coach at Rushville.  I hope people come and support all of us this season and get in shape in the process."
One can track detailed results of all six races on the
SIRC page
of Stuart Road Racing.
Registration form for the Rushville event is below.