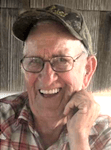 Earl J. (Shorty) Stenger, 93, of Lawrenceville, Indiana passed into eternal life on Thursday, January 28, 2021 at his home, surrounded by his beloved family. He is survived by his children: Mike (Liz) Stenger of Sunman, Susan (Tim) Dietz of Batesville, Christy (Steve) Eckstein of Greensburg, Earl Jr. (Marty) Stenger of Brookville, John (Linda) Stenger of Harrison, Andrea (Chuck) Hartman of Morris, Jeff (Rhonda) Stenger and Sandy (Jay) Whitehead, both of Lawrenceville. Fond memories of him will be treasured by his 22 grandchildren and 21 great-grandchildren. Earl also leaves behind a brother, Jake (Ruth) Stenger; a sister, Joan Oesterling; three sister-in-laws, Frances Bischoff, Viola Stenger, and Irene Stenger, and many nieces, nephews, friends, neighbors and caregivers.
Earl was preceded in death by his loving wife of 66 years, Rita H. (Beneker) Stenger; his parents, Joseph and Catherine (Wilhelm) Stenger; brothers Wes, Jess, Melvin, Ted, and Tony. The Stenger Boys were well-known in the "East End" of St. Leon.
In the 1950s, Earl worked at the Philco Corporation in Connersville until establishing himself as a full-time farmer. Earl's love of the land was greatly illustrated in his life's work and his pastimes. He raised tomatoes for the cannery in Sunman, grain, beef, dairy cattle, and hogs.  Upon his retirement from farming in the early '90s, Earl owned and operated the Blue Creek Game Preserve, a licensed bird hunting preserve.
Many from the area, especially family, have fond memories of the Stenger cabin on St. Peter's Road, built by Earl and his brothers. Many butchering parties, North Dearborn Conservation Club picnics, Stenger/Wilhelm family reunions, and wagon rides were hosted by Earl and Rita at the cabin.
There was always a horse to be broken at the Stenger farm, brought home from the sale barn at Brookville, or a team of horses to give everyone a ride. He enjoyed riding around his farm on his Ranger, fishing, and hunting.  Through the fall of 2020, he could still be found cutting wood and operating his backhoe. Always the competitor, Earl enjoyed playing baseball in his younger years, golfing, bowling, and playing cards. He never missed a Cincinnati Reds baseball game, whether it be on the television or the radio.
A World War II US Army veteran, Earl was instrumental in finding the land and assisting in the construction of American Legion Post 464. For many years, he organized weekend dances as a fundraiser for the Post. 2021 marks his 75th continuous year as a Legion member. For his contributions to its success, he received the Post 464 Oak Tree award in 2018.
A private Mass of Christian Burial will be held on Wednesday, February 3 at 11:00am at All Saints Parish, St. Joseph Campus. Although mass attendance is private, it will be lived streamed at https://www.youtube.com/user/aspweeklyhomily. Memorials can be made to Loving Hearts Hospice, St. Joseph Legion Post 464 or Masses.
Memorials can be mailed to Andres-Wuestefeld Funeral Home at 25615 State Rt. 1, Guilford, IN 47022. Please visit www.andres-wuestefeldfh.com to sign the online guestbook or leave condolences.