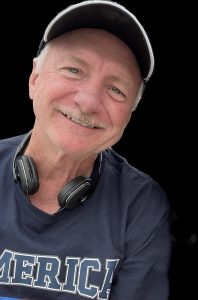 David Wayne Williams, husband, father, "pop-pop", son, brother, uncle, and friend, passed away on Tuesday, June 6, 2023.
Born in Evansville, Indiana on December 6, 1962, he was the son of Robert and Joanne Williams.  Dave graduated from Evansville North High School, where he became a State Champion in the 3200m during his senior year. He is set to be inducted to the Indiana Track and Field Hall of Fame for his achievements on June 24, 2023. Dave continued running cross country and track at Purdue University where he earned a degree in Mechanical Engineering and graduated in 1985. In August 1986, he married the love of his life, Sheri Schnarr. Dave worked for Chrysler Motors in Detroit, Michigan before moving to Batesville in 1989 to work for Hill-Rom, where he retired after 25 years.
He was a longtime member of the Batesville Fraternal Order of Eagles, Aerie #1130 since 1995, the VFW Auxiliary #3183, Sons of the American Legion and past member of the Batesville Jaycees.
Dave could usually be found with a yeti tumbler in hand, watching sports, Hallmark movies or cruising the backroads in his Jeep. He was always quick to share a laugh with his friends and family, and always willing to lend a hand to anyone who needed it. He leaves behind a legacy of positivity, humbleness, true selflessness, and a love for his Purdue Boilermakers and Minnesota Vikings.
In typical Dave fashion, he is leaving this world a giver. He donated multiple organs to others and a few to research. Dave continues to live on.
He will be dearly missed by his wife, Sheri Williams; children, Crystal (Ben) Peters, Keith (Lauren) Williams, and Jamie (Dustin) Lamping; grandkids Eisley and Malachi Peters, Amelia and Jameson Williams, and Jordyn and Ava Lamping; his mother, Joanne Williams; mother-in-law, Beverly Schnarr; along with his siblings, Jim Williams, Karen Beltran, Scott Williams and Kelly Ralph; and brother-in-law, Brian Schnarr.
He is preceded in death by sister, Sharon; father, Robert "Bob" Williams; and father-in-law, Robert "Bud" Schnarr.
All are invited to join in a Celebration of David's Life with his family at the Fraternal Order of Eagles, at 104 W. Pearl St., Batesville, IN 47006 on Sunday, June 11, 2023 from 2:00 – 5:00pm. A short memorial tribute will begin at 2:15pm.
Memorials may be given to the Life Center Organ Donor Network or the FOE Aerie #1130 by bringing to services or mailing to Meyers Funeral Home, P.O. Box 202, Batesville, IN 47006.
Please feel free to leave a memory or a message of comfort for Dave's family in the online guestbook at www.meyersfuneralhomes.com.