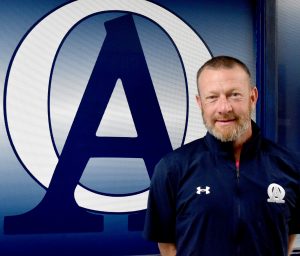 (Oldenburg, IN) – The Twisters have a new girls basketball coach. Oldenburg Academy has announced David Disbro as their varsity girls basketball coach.
Coach Disbro comes to OA after 24 successful seasons as the boys basketball coach at East Central High School. In his time at East Central, he compiled a 332-220 overall record, with a 179-76 record in the very competitive EIAC. He is also a 5-Time HBCA Basketball Coach of the Year, District 3 Representative to the IBCA, 7-Time EIAC Conference Champion and 2008 Sectional Champion in class 4A.
Not only has he been successful in teaching the game of basketball, but he also is an advocate for his players to be successful in the classroom. Of the 105 seniors that played for him at EC, 100 went on to attend college.
Coach Disbro on why he chose Oldenburg, "I chose OA because of the relationships I formed with the administrators and staff and the exciting information I heard about the kids. I always hear about how great the student athletes at OA are, and that drew me in. I am looking forward to working with a group of talented, smart, and hardworking student athletes. I am also looking forward to working with my talented and hardworking coaching staff."
From AD Michael Higdon on hiring Coach Disbro," We are very grateful and excited to have Coach Disbro here at OA. His passion and love for the game was evident right away. I know he will do a great job of teaching the game, preparing the girls, and building the program from top to bottom. I can't wait for him to get started."
Coach Disbro will look to build off of an 11-10 season with some returning varsity players.