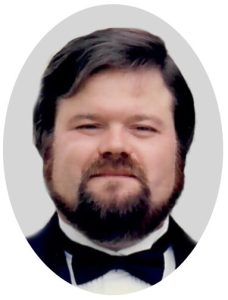 Daniel Scott Litmer, age 60 of Enochsburg, died Monday, May 15 at his home.  Born August 28, 1962 in Batesville, he is the son of Carol (Nee: Fisher) and Daniel Litmer.  He worked at Wood-Mizer for over 35 years.
In 1993 Wood-Mizer was looking to expand its' operations and Scott accepted the task of helping to design, build and run the new plant which was to be located in Poland.  Part of his duties were to make use of modern technologies to create a plant that ran as efficiently as possible. One such example was using infra-red heat.  At the time, it was a concept rarely seen at factories in Poland.  It was also there that he met his wife Elena.  With his task complete, in 1997 he would return to Wood-Mizer in the U.S., with his wife Elena and stepson Konstantin.
He was often seen riding around Enochsburg with his dog in either his Razor or golf cart.  Carlo was his faithful companion.  Scott played football in high school and later played on several softball teams as their pitcher.  He was also a member of the New Point Volunteer Fire Department for 35 years, where he was instrumental in many of their fund-raising efforts.  He started the annual peach fundraiser, the department fish fry's and helped write grant applications, always looking for ways to raise the funds needed for the department to continue to operate.
Scott is survived by his wife Elena; stepson Konstantin; brother and sister-in-law Chris and Kim Litmer and his niece Luci.  In addition to his parents, he is also preceded in death by his brother William Litmer.
Visitation is Friday, May 19th from 4 – 7 p.m. at the Weigel Funeral Home.  Funeral services are 10 a.m. Saturday, May 20th at St. Catherine of Siena Church in Enochsburg with Rev. Bill Ehalt officiating.  Following services, Scott's wishes were to be cremated.  The family requests memorials to the New Point Volunteer Fire Department.