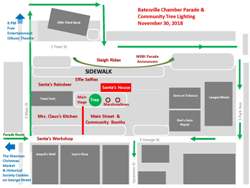 Batesville, In. — Final preparations are underway in Batesville for the first ever Batesville Holiday Parade and Christmas Tree Lighting tonight.
Here is a schedule of events:
At 5 p.m. Festivities begin in the Downtown Bike Park, Sleigh rides begin and parade line up in the Weigel Funeral Home parking lot
From 5 to 8 p.m. the Batesville Area Historical Center will sell cookies and have a silent auction for vintage nativity sets. Click here for more information.
At 5:30 p.m. Santa's Reindeer arrive & Boar's Head preview on the Main Stage
At 6 p.m. Miss Shannon on the Main Stage, the parade steps off
Around 6:55 p.m. official proclamation and tree lighting
At 7 p.m. the Eureka Band on the Main Stage
At 8 p.m. the Gibson Theater will host a holiday movie
Officials say the parade, "Twas the Night Before Christmas"! will be a twilight affair so they encourage entrants to use lights and music to engage parade goers. Float judging begins at 5:30 p.m. and fabulous prizes will be offered for first through third places, the more lights and music, the better.
Parade entries with animals will line up at the rear and must their own clean up crew. No Santas are allowed on any floats.
Candy and/or promotional items cannot be thrown into the crowd, items must be handed to or gently tossed to those close by.
Here is a list of closing and restrictions associated with the event:
On Thursday, November 29 the city parking lot across from the Weigel Funeral Home will be closed from 3 to 9 p.m.
On Friday, November 30 the Bike Park parking lot (both areas), adjacent to East Pearl & George Streets will be closed from 11 a.m. to 9 p.m. George Street will be closed between Main and Sycamore Streets from 3 to 9 p.m. and the parking spaces on East Pearl Street will be closed from 3 to 9 p.m.
The parade lineup starts at the parking lot at Elm & George Streets at 5 p.m. and begins east on George Street at 6 p.m., left on Main Street, right on Boehringer Street to the Village Square parking lot, left on East Pearl, right on Park Avenue, right on George Street to Sycamore where Santa will host the Community Tree Lighting.
For more information please call 812-933-6100.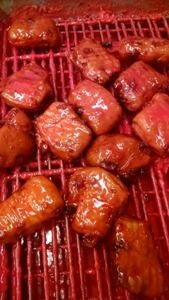 Here is a list of additional activities in downtown Batesville Friday evening:
Shcmidt's Bakery will hold an Open House all day with a ribbon cutting at 10 a.m. Cranberry Thing-a-Lings will be available all day and free hot chocolate.
The Batesville Area Arts Council will offer the photographic coffee table book Project 229 at Amack's Well from 5 to 8 p.m. Project 229 is a collection of photographs depicting life in Batesville/Oldenburg area.
A vintage nativity scene silent auction and cookie sale will be held at the Batesville Area Historical Center on George Street from 5 to 8 p.m.