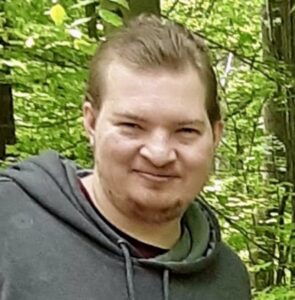 Brandon Linuel Ketcham, 27, of Greensburg passed away on Thursday, November 16, 2023. Brandon was born on November 28, 1995, in Columbus, Indiana, to Jeff and Teresa Ketcham.
Brandon graduated from Greensburg High School. During his high school years, he was involved in FFA and loved farming. After high school, he earned an associate degree in business from Ivy Tech furthered his education at Trine University. He was a dedicated worker for Rural King in Greensburg for the last few years. He had a passion for collecting swords, enjoyed playing video games, and adored animals. Brandon was a man of remarkable knowledge and resourcefulness.
He is survived by his parents; sister, Katelynn Ketcham; brother, Ricky Ketcham; several aunts, uncles, cousins, niece; and his beloved cat, Cleo.
He was preceded in death by his biological paternal grandparents, Donald and Vernia Ailes; adopted paternal grandparents, Keith and Mary Ketcham; maternal grandparents, Clarence and Joyce Friend.
A visitation will be held on Tuesday, November 21, 2023, at Porter-Oliger-Pearson Funeral Home from 11:30 am to 1:30 pm. A funeral service will be held following the visitation at 1:30 pm with Jerry Wayne Friend officiating. Burial will be held at Sand Creek Cemetery. Memorial contributions can be made to the family in care of the funeral home. Online condolences can be made at www.popfuneralhome.com.