On Wednesday night, North Decatur boys junior high track competed at the Tri Invitational with Blue River Valley and Daleville.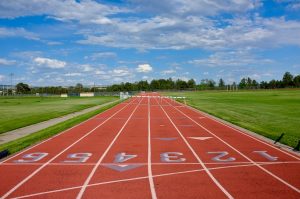 Team Results
Tri 73
Blue River Valley 48
North Decatur 46
Daleville 17
North Decatur Individual Results
Branden McBride set a new school record in the long jump with a leap of 17'4″, beating the 20-year old school record of 16'5″.
Branden McBride placed 3rd in the 100m dash and 200m dash.
Simon Barber finished 3rd in the 400m dash.
Conner Goolsby took 2nd in the 800m run and the discus.
Deegan Orozco placed 2nd in the hurdle event.
Evan Cherry finished 2nd in the shot put.
Recap provided by the North Decatur athletic department.