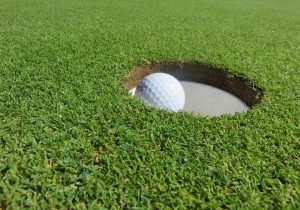 The boys high school golf season came to an end for all area athletes Thursday.  No local team nor individual qualified for the state finals from the Providence or Muncie Central Regionals.
On the Champions Pointe course at the Providence Regional, Greensburg was the only full team which competed and placed 17th with a score of 357.
The top three advancing teams to state are champion Bloomington South with 292, Silver Creek 304 and Jasper 306.
The individual regional champion is Borden's AJ Agnew who shot a 4-under 68.  For any individual to qualify for state from a non-advancing team, the magic number was 75.
Scores for area athletes included:
North Decatur's Carson Parmer and South Dearborn's Eli Hoffman- 80.
Greensburg's Colten Schroeder and East Central's Devin McFarland- 87.
Greensburg's Parker Phillips- 88.
Greensburg's Hunter Springmeyer and Abe Tebbe- 91.
Switzerland County's Bryce Wrightsman- 92.
Greensburg's Jack McKinsey- 102.
On the Players Club course at the Muncie Central Regional, Connersville was the only full team from the area participating.  The Spartans finished 14th with a total of 352.
The top three teams moving on to state are Cathedral and Noblesville with 305 each and Hamilton Southeastern with 309.  Cathedral won the regional on a fifth-player tiebreaker.
Derek Tabor of New Castle is the individual regional champ with a 6-under 66.  Just like at Providence, 75 proved to be the score necessary for individuals from non-advancing teams to qualify for state.
Morristown's Asher Caldwell out of the Mid Hoosier Conference was closest with a 78.  All other golfers from the area were from Connersville.  Spartan scores were: Cooper Kinney 81, Will Chalker 84, Conner Graves 91, Gage Brown 91 and Dylan Thomas 106.
Please click on the following links for full results of the Providence Regional and Muncie Central Regional.
We thank the IHSAA for the regional results.