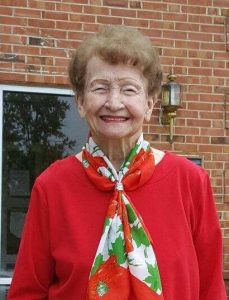 Billie Jean Busse, 95, of Rising Sun, Indiana, passed away Tuesday, December 28, 2021, in Lawrenceburg, Indiana.
She was born July 5, 1926, in Oklahoma City, OK, daughter of the late Roy Clarence Kirk and Stella (Ford) Kirk.
Billie was an owner/operator for Help Yourself Laundry in Aurora for over 12 years. She attended St John Lutheran Church.
She was an amazing cook and her cheesecake was well known, as was her German chocolate icing. She was an arborist. She and her husband Wayne raised everything from Charolais cattle to rabbits, and asparagus to strawberries. Billie loved gardening, and yard work, and she kept up with it until age 86. She was a very hard worker.
Billie is survived by her children, Melody (Michael) Lembke of Pasadena, CA, Mickey (Chris) Penrod of Lafayette, IN; Wayne (Margaret) Busse of Aurora, IN, Kirk Busse of Aurora, IN, Kevin (Nancy) Busse of Aurora, IN, 10 grandchildren and 3 great-grandchildren.
She was preceded in death by her parents, Roy and Stella Kirk; her husband Wayne W. Busse; siblings, Leroy, Roy, Ralph, Paul and Richard Kirk, Modina Maahs, Pauline Bowman, and Darlene McDonald.
Friends will be received Tuesday, January 4, 2022, 11:00 am – 1:00 pm at the Rullman Hunger Funeral Home, 219 Mechanic Street, Aurora, Indiana.
Services will be held at the funeral home at 1:00 pm with Pastor Ronald Stephens officiating.
Interment will follow in the River View Cemetery, Aurora, Indiana.
Contributions may be made to the St John Lutheran Church or School. If unable to attend services, please call the funeral home office at (812) 926-1450 and we will notify the family of your donation with a card.
Visit: www.rullmans.com