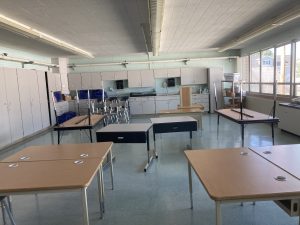 Batesville, IN — The Batesville Community Education Foundation (BCEF) has launched its 2022 annual campaign to raise funds for lab tables and other movable furnishings in the Batesville Intermediate School's (BIS) planned Science/Technology/Engineering/Art/Math (STEAM) Lab, announced BCEF executive director Anne Wilson.
Funds from the campaign will be used to enhance the learning environment for all third through fifth graders at the school, impacting 479 students at the Batesville Community School Corporation (BCSC).
"The renovation of this space is exactly the type of project the BCEF board of directors is always looking for," Wilson explained. "During our original meeting with BIS principal Dana Cassidy about possible projects for funding, she casually mentioned an idea she had about converting an outdated classroom into a state-of-the-art STEAM lab, almost as a pipe dream. Board members were intrigued, so we asked her to see the room and explain more about what she was envisioning—and instantly knew we'd found our next big project."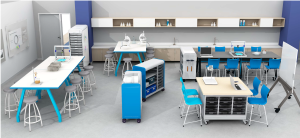 The room in mind is in the oldest section of the BIS building, which many long-time Batesville residents will remember was once Westwood Elementary. Tucked away at the end of a hallway is a room that hasn't changed much in the past 60 years.
"We like to say that it looks like it's stuck in a time warp," Wilson described. "The integrity of the room itself is fine and BCSC can dedicate resources to refresh it through paint and other upgrades. What most people don't realize, though, is that modern lab tables and other movable furnishings for a room that size will likely surpass the $25,000 mark."
"BIS has been fortunate to have received robots and other STEAM-related lab materials through grants from the state," Cassidy explained. "However, funding for the core of the room—the
collaborative space itself where students can explore—is difficult to come by. In the past, teachers had to come to this room and haul the items to their classroom for use. Without a dedicated space in which to work, the engagement with these important materials was limited. Our vision is to transform this room into a STEAM lab where students can let their creativity flow on a regular basis."
Cassidy's plan is for all BIS students to visit the STEAM lab as part of their allied arts rotation. For now, the room is set up in a makeshift fashion with leftover tables and chairs Cassidy has pulled from storage. The goal is to have those replaced with quality lab tables, chairs, and other furnishings to bring a modern, collaborative feel to the room.
"Our students will be starting with coding this year," Cassidy said, "but we have the kits for other activities, such as Lego Mindstorms, Spheros, Vex Robotics, and Makerspace creations. We are
moving forward with STEAM integration even though the space is not complete. Hopefully, the BCEF annual campaign will raise enough money so a classroom of students can rearrange the lab tables in a heartbeat, allowing the whole group to watch a robot make it across the span of the room. Then, they can all move everything back to small group work just as easily. Flexible and use-appropriate furnishings will make a world of difference."
"BCEF's tagline is 'Beyond the Basics,'" added BCEF board member and campaign chair Ashley Walls. "STEAM education is definitely becoming more a part of our students' experience. However,
we want to raise the standard. While field trips and unit studies for STEAM are helpful experiences, we want to help BIS integrate it into the curriculum. If those activities are your basic level of STEAM interactions, we think this renovated lab will take it 'beyond the basics.' That's been our goal with all of our past flexible learning space initiatives— to not be satisfied with just making do."
Since 2017, BCEF has donated more than $118,00 toward flexible learning components at all four BCSC school buildings. Past projects include pieces for multiple classrooms, as well as all movable furnishings in the Bulldog Center at Batesville High School (BHS) and the new Bulldog Collaboration Room at Batesville Middle School (BMS). Funds raised during the 2022 annual campaign will be earmarked for the BIS project as well as other BCEF programming needs.
"Besides flexible spaces like this STEAM lab, BCEF funds vital programs at BCSC like classroom grants, the Art on Main community outreach initiative, career networking tools, and certification costs for Batesville High School students, as well as our new 'We Care' staff support program for BCSC employees, just to name a few," Wilson said. "We continue to expand our projects, funded solely by donations. By contributing to this campaign, the Batesville community at large can support not only the BIS STEAM lab but all 2200 students and 300+ staff at the Batesville public schools through our corporation-wide programming."
"These important technological tools need to be an integrated part of the curriculum so our young learners will gain skills to help them succeed in our ever-changing world," Cassidy added. "BIS
students using this new STEAM lab will go on to become successful BHS students, whether their STEAM experience leads them to a trade, such as practicing their skills in the new welding lab to be built, to a job after high school that requires teamwork and problem-solving skills, or to any of a variety of college-focused classes that use STEAM curriculum components."
The BCEF Annual Campaign runs now through September 30.
More information about the drive and BCEF's other programs is available at the foundation's website: BatesvilleEducationFoundation.org.
A paper donation form is available for download or donations can be made online.
Any questions can be directed to Wilson at [email protected].
(Batesville Community Education Foundation press release)