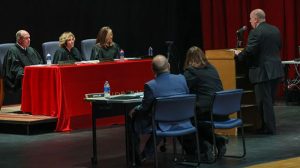 Versailles, IN — The Indiana Court of Appeals civics education outreach program Appeals on Wheels will make a stop at South Ripley High School on Thursday, October 27.
A three-judge panel – which will include Dearborn County native Leanna Weismann – will hear oral arguments in the case of Robert Lawson vs. The State of Indiana.
Oral arguments will take place between 10:30 and 11:30 am with a Q and A session afterward.
"It will give the students the opportunity to see how the different branches of the state government work together. It's going to be a really neat day," said South Ripley Community Schools Superintendent Rob Moorhead. "We'll have several groups of students who are going to be attending from both the junior high and high school. The opportunity to bring Appeals on Wheels to South Ripley is something we didn't want to pass up on."