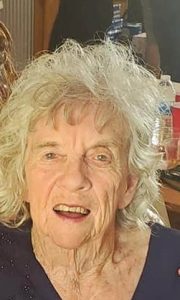 Agnes J. Wagner, 88, of Greensburg, passed away on Wednesday, November 10, 2021 at the Decatur County Memorial Hospital.  She was born September 29, 1933 in Decatur County, Indiana the daughter of Herman J. and Sarah (Wesseler) Schoettmer, both deceased. She married Herman J. Wagner on October 26, 1955 and he preceded her in death on December 9, 2020.
Agnes graduated from Napoleon High School and those that knew her were always reminded that she was also valedictorian. She worked several years at Marsh Supermarket in Greensburg and then she worked at the Greensburg Junior High School Cafeteria.  She along with her husband, delivered the Greensburg Daily Newspaper for many years. She was a member of the St. Mary's Catholic Church, the Rural Couples, Daughters of Isabelle and St. Lawrence Auxiliary.  Agnes loved to attend Greensburg Pirates (boys and girls) basketball games. She loved to cook and was especially known by family and friends for baking the best pies. She enjoyed nights out at the Knights of Columbus and going out to eat with her husband. She took pleasure in playing cards and listening to country music.  Most of all, she adored her family and proudly attended any activity that her children, grandchildren, and great grandchildren were involved in.
Agnes is survived by two sons, Michael Wagner and Dennis Wagner, both of Greensburg; two daughters, Susan (Joe) Geis and Lisa (Brian) Huff, both of Greensburg; grandchildren, Tiffany Wiley, Brad (Erin) Wiley, Jeffrey (Allison) Rose, Chasity Rose, Jared Wagner, Laura (Ryan) Walsman, Jamie (Zach) Hilton, Dustin Huff; great grandchildren, Chase, Easton, Ripken, Breonna, Aiden, Daniel, Jax, Navy, Lincoln, and Holloway; one brother, Ronald Schoettmer, Farmington, Ga.; six sisters, Margaret (Steve) Greiwe, Greensburg, Kathleen (Dennis) Berkemeier, Greensburg, Virginia (Robert) Wamsley, Greensburg Mary Ann (Jim Kipper) Sullivan, North Vernon, Lucille Case, Elizabethtown, KY., Ruth Steinkamp, Leander, Tx.
She was preceded in death by her parents, husband, daughter-in-law, Darlene "Dee" Wagner; brothers, Richard, Ralph and Albert Schoettmer.
Family and friends will gather at 3:30 p.m. on Thursday, November 18, 2021 at the Porter-Oliger-Pearson Funeral Home in Greensburg to pray the rosary. Visitation will follow until 7:00 p.m. Visitation will also be held from 10 to 10:45 a.m. on Friday at St. Mary's Catholic Church with the funeral mass to follow at 11:00 a.m. with Rev. John Meyer officiating. Interment will be held in the St. Mary's Catholic Cemetery in Greensburg. The family request in lieu of flowers, memorials be made to the St. Mary's Catholic Church or to the Alzheimer's Association. Online condolences can be made to the family at www.popfuneralhome.com