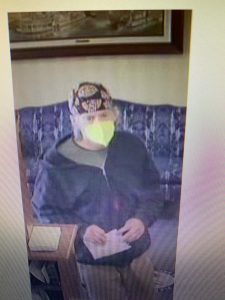 Lawrenceburg, IN — Monday shortly after 1 pm, the Lawrenceburg Police Department responded to a bank robbery at Civista Bank, 92 Walnut St, Lawrenceburg.
The preliminary investigation shows a white male entered the bank from the Walnut Street entrance. The suspect approached a teller and demanded money. The suspect stated he had a firearm, but never displayed a weapon. After getting an undisclosed amount of money, the suspect left the bank through the same door and was last seen getting into the passenger side of a maroon or purple minivan and leaving northbound on Short St.
The suspect was wearing a multi-color skull cap with gray stringy hair coming out from underneath, khaki carpenter's pants, blue possibly canvas zip-up jacket, khaki-colored t-shirt, and yellow face mask.
If you have any information as to the location or identification of the suspect, please contact Lt./Det. Jeremy Shepherd with the Lawrenceburg Police Department at 812-537-2284.
The Lawrenceburg Police Department was assisted at the scene by the Dearborn County Sheriff's Department, Dearborn County Special Crimes Unit, Greendale Police Department, Aurora Police Department, Dillsboro Police Department, Indiana State Police, and Indiana Gaming Commission.