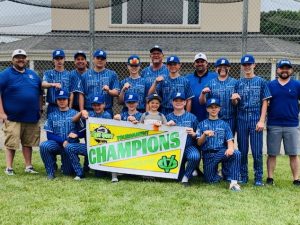 Over the weekend, the 14U Batesville Bats won the Tree City Showdown.  Rain on Sunday stopped bracket play after just one game, but the Bats were presented with the title due to their number one ranking in accumulated USSSA points.  This was the second tournament championship for the program this season.
Batesville got into position for the title by winning two games on Saturday, defeating the Indiana Longhorns from Muncie 8-2 and then the Indiana Bullets from Bluffton 13-9.
The Bats had three players hit .500 or better.  Trevor Castner hit .750 with a home run and five RBI, Carson Hartley also hit a .750 clip with a double, two RBI and two stolen bases while Clay Eckstein was right at the .500 mark over the two games.
Batesville used six pitchers during pool play.  Cayden Drake got the win against the Longhorns going three innings allowing one hit and no earned runs.  Noah Weigel got the victory in relief against the Bullets striking out two in just two-thirds of an inning.  Rylan Yaeger closed out the final inning to get the save.
Other notable contributions during the tournament: Rylan Yeager (.429 avg. and error free), Brody Huff (.333 avg.), Keegan Walke (.333 avg., 2 1/3 innings pitching vs. Bullets with 0 earned runs and 3 Ks, and error free including tracking down a long fly ball in center), Preston Blessing (3 RBI) and Austin Hodge (catching with one runner caught stealing).
(Pictured front row L to R:  Keegan Walke, Brody Huff, Cade Simonson, Bat Boy Leo Hartley, Austin Hodge, Noah Weigel.  Second row L to R: coach Brandon Blessing, Clay Eckstein, Trevor Castner, Carson Hartley, Cayden Drake, Preston Blessing, Rylan Yeager and Game Changer expert Andy Hartley. Back row:  coaches Chuck Weigel, Paul Drake and Jason Walke.)
We thank Paul Drake for the information.