Find him and win!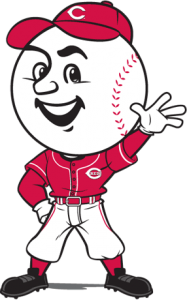 To celebrate another great season of Cincinnati baseball, every week starting April 1, we're hiding the famous Reds mascot in a different secret location. If you find him, click to register for our weekly and monthly prizes — and our grand prize as well.
Prizes
Weekly: A prize package from the Cincinnati Reds
Monthly: A $15.00 Gift Certificate to Skyline Chili
Grand Prize: $500.00 of flooring from Pulskamps Flooring Plus
For more information, see our contest rules.
Happy hunting!
Weekly Winners
8/11/19 – Marilyn Schwegman
8/4/19 – Rodney Jones
7/28/19 – Mindy Ison
7/21/19 – Carrie Billman
7/14/19 – Nicki Wuestefeld
7/7/19 – Martha Drammann
6/30/19 – Leah Waters
6/23/19 – Scot Harmeyer
6/16/19 – Angela Walterman
6/9/19 – Lauren Boesken
6/2/19 – April Bruce
5/26/19 – Richard Rahe
5/19/19 – June Satterfield
5/12/19 – Kerri Volz
5/5/19 – Anita Gay
4/29/19 – Brenda Stichtenoth
4/21/19 – Tammy Miller
4/14/19 – John Wenning
4/7/19 – Robin Eckstein
Monthly Winners
July – Carrie Billman
June – Angela Walterman
May – Richard Rahe
April – Tammy Miller
Special Savings from Our Sponsors