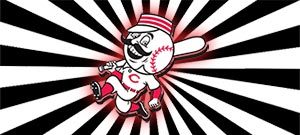 Every week, the beloved Cincinnati Reds mascot finds a new place to hide on the WRBI website. If you can find him, you're in line to win a Reds bobble-head, a gift card from Skyline Chili, and maybe even a $500 certificate towards flooring from Pulskamp's Flooring Plus.
When you find Mr. Redlegs, click on the image to find out how to claim your prize. Meanwhile, click here for some great deals from our sponsors.
Good luck, and happy hunting!
| Name | Prize |
| --- | --- |
| Eric Vickers | September Weekly Winner |
| Scott Miller | August Weekly Winner |
| Eric Kuntz | August Weekly Winner |
| Lisa Mosmeier | August Weekly Winner, August Monthly Winner |
| Todd Waters | August Weekly Winner |
| Rachel Treadway | July Weekly Winner |
| David May | July Weekly Winner |
| Becky Fryman | July Weekly Winner, July Monthly Winner |
| Virgill Pingsterhaus | July Weekly Winner |
| Patrick Eckstein | July Weekly Winner |
| Rusty Litmer | June Weekly Winner |
| Kevin Dudley | June Weekly Winner |
| Jim Paul | June Weekly Winner, June Monthly Winner |
| Judy Wuestefeld | June Weekly Winner |
| Becky Eckstein | May Weekly Winner |
| Michelle Carpenter | May Weekly Winner |
| Robbie Cowell | May Weekly Winner |
| Joe Bradley | May Weekly Winner |
| Mark Meyer | May Weekly Winner, May Monthly Winner |
| Vicki Doerflinger | April Weekly Winner |
| Bruce Bedel | April Weekly Winner |
| Joy Hornberger | April Weekly Winner, April Monthly Winner |