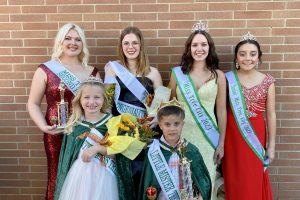 (Greensburg, IN) – Royalty was crowned Friday evening to kick off the Tree City Fall Festival on the Courthouse Square in downtown Greensburg.
Allison Nobbe was named Miss Tree City. Morgan Schofield was selected 1st runner up and Miss Congeniality and Olivia Howard was chosen 2nd runner up.
Nobbe says she plans to pursue a Bachelor's Degree in Agriculture Education at the University of Kentucky and, upon graduation, hopes to teach at a rural community school.
Ameliah Colin was chosen as Junior Miss Tree City. The 1st runner-up was Sashia McIntosh; LaShay Dwiggins was picked as 2nd runner-up and Olivia Schwering was named Miss Congeniality.
Adalie Bedel was elected Little Miss. 1st runner-up was Claire Mang; PaisLee Balser was 2nd runner-up, and Little Miss Congeniality honors went to Victoria Richter.
Avyn Huffman was named Little Mister. Dakota Gearhart was chosen 1st runner-up and Little Mister Personality.
The Tree City Fall Festival took place on Friday and Saturday, September 15 and 16