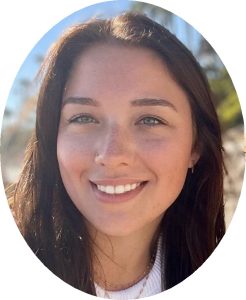 Riley Hope Duerstock, age 21, of Batesville, Indiana passed away Monday, September 11, 2023 at Memorial Hospital in South Bend, Indiana. Born September 3, 2002 in Decatur County, Indiana, she is the daughter of Jill (Nee: Blair) and Deron Duerstock. Riley was a member of St. Louis Catholic Church, a 2021 graduate of Batesville High School, and was currently a student at the University of Indianapolis.
Riley was a beloved daughter, sister, niece, cousin, granddaughter, friend, and girlfriend. In her short life, she had already touched the lives of many with her selfless ways. As an example, at the age of 16, she took her first ever airplane flight alone all the way to Ghana in Africa on a medical internship, tending to people suffering from leprosy and to poor mothers and their ill children. Later, she donated her eggs to women unable to conceive. Currently, she was in her 3rd year of nursing school at the University of Indianapolis with hopes of becoming a flight nurse. And now, in her final hours, she has given the ultimate gift of life to the three recipients of her organs. Riley was bright, independent, and hardworking, helping at Mrs. Ryker's Preschool from the age of 12, working at and later managing Dottie's Bulk Foods throughout high school, and most recently, starting "Hope's Homemade Fudge" and simultaneously working as a CNA at Margaret Mary Community Hospital and in the laundry room at Decatur County Memorial Hospital. She is remembered as an adventurous, loyal, ambitious, kindhearted, humble, strong, and fun young woman. She loved her family, her dogs, her array of plants, crocheting, painting, and quiet nights at home with her boyfriend, Jarrod. She was a beautiful, bright light and will be dearly missed.
Riley is survived by her parents Deron and Jill of Batesville; brother Ryan Duerstock of Batesville; maternal grandmother Janet Blair of Oldenburg, Indiana; boyfriend Jarrod Nichols of Osgood, Indiana; and several aunts, uncles, and cousins. She was preceded in death by her maternal grandfather Lloyd Blair; paternal grandparents Norb and Ruth Duerstock; uncle Steve Wintz; and cousin Jason Wintz.
Visitation is Tuesday, September 19th, from 4-7 p.m., at Weigel Funeral Home in Batesville. A Mass of Christian Burial will be held at 11:00 a.m. on Wednesday, September 20th, at St. Louis Catholic Church in Batesville, with Fr. John Meyer officiating. In lieu of flowers, memorial contributions may be made to the Riley Duerstock Nursing Scholarship Fund or the Ronald McDonald House of Michiana, 610 North Michigan Street, Suite 31, South Bend, Indiana 46601. For online condolences go to www.weigelfh.com.