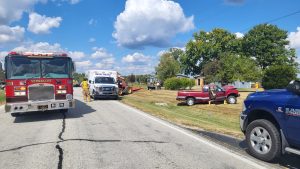 (Ripley County, IN) – A medical helicopter was called to a two-vehicle accident with entrapment that happened around 2 p.m. Monday on State Road 129 near Olean.
56-year-old Mike Webster of Versailles was driving a farm implement southbound on 129 when it was rear-ended by a pickup truck driven by Eric Welch of Switzerland County.
Welch had to be extricated from the wreckage of his pickup and was airlifted from the scene. He's recovering from a variety of injuries.
Webster was taken by ambulance to the hospital, where he was treated and released.
Responding agencies included the Ripley County Sheriff's Office, Versailles Fire Rescue, Ripley County EMS, and P-H-I Air Medical.