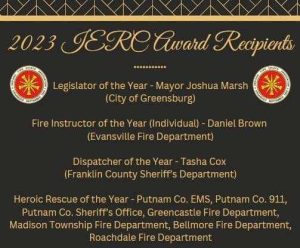 (Southeastern IN) – Congratulations to Greensburg Mayor Joshua Marsh and Tasha Cox with the Franklin County Sheriff's Office.
They were honored recently by the Indiana Emergency Response Commission (IERC).
Mayor Marsh was named Legislator of the Year, while Cox was chosen Dispatcher of the Year.
The IERC's duties include reviewing emergency response plans, designating local emergency planning districts, and appointing and supervising the activities of Local Emergency Planning Committees.
To learn more about the IERC, click here.