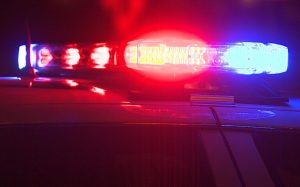 Batesville, IN — A Johnson County woman was arrested in Batesville Friday on drug and other charges following a road rage incident involving a handgun on I-74 in Ripley and Dearborn counties.
The incident began at approximately 11 am when Indiana State Police troopers received a report of a road rage incident on westbound I-74 near the Indiana/Ohio State Line.
A witness reported that the driver of a Kia passenger vehicle allegedly pointed a handgun at them while traveling on I-74.
Shortly afterward, two troopers located the car in Batesville.
During a traffic stop on the vehicle, the troopers became suspicious of additional criminal activity and deployed a K-9 which alerted them to the smell of drugs in the vehicle.
ISP says that led to the discovery of approximately four grams of methamphetamine, five grams of marijuana, and a 9 mm handgun.
50-year-old Lisa Marie Hancock of Franklin was arrested and charged with Possession of Methamphetamine with a Firearm (Level 5 felony), Pointing a Firearm (Level 6 felony), Reckless Driving (Class A misdemeanor), and Possession of Marijuana (Class B misdemeanor).
She was transported to the Ripley County Jail where she awaits an initial appearance in Ripley Circuit Court.
Indiana State Police was assisted by the Batesville Police Department.
.