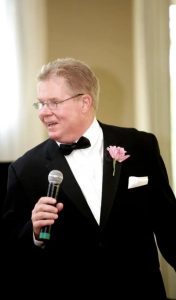 Mark Yorn was born in 1955 in Batesville, IN to Melvin and Evelyn Yorn.
In 1977, Mark met his wife, Laurie, while she was getting her car repaired at Nobbes' Dealership and she caught his eye. Together, they raised their family, first in Oldenburg, where he was a volunteer fireman, then in Batesville.
His favorite activities were anything he did with his children, including running 5Ks with his daughter and playing tennis with his sons.
Mark graduated from Indiana State University with an M.S. in Occupational Safety Management. His career as a journeyman spanned from Batesville Tool & Die, to Hill-Rom Industries, and then to Honda Manufacturing where he retired in 2020.
Mark's hobbies included bowling, softball, and golfing. However, his favorite hobby was anything to do with running, from his high school nickname "Pre" all the way to volunteering many years at the NCAA Championships in Cross Country Town, USA.
Mark loved following the Cincinnati Bengals, the Cincinnati Reds, and the Kentucky Wildcats.
He was preceded in death by his parents, Melvin and Evelyn Yorn, and his brother Jon.
Mark is survived by his wife, Laurie, and their three children; Brian, Jillian, and Cary, as well as his son-in-law, Matt Lee, and his brother Joel. He was also lovingly called "Mo" by his two grandsons, Andrew and William.
We invite you to a celebration of life to honor a wonderful husband, father, and friend. Please join us in a toast to Mark at the Hillcrest Country Club in Batesville on Saturday, February 18th anytime between 2 and 4.
Mark will always be remembered by his loved ones for his humorous wit.
11/21/1955-12/5/2022