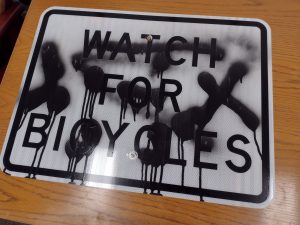 Versailles, IN — The Town of Versailles wants to know who's responsible for defacing a traffic safety sign on County Road 25 East between Versailles State Park and the new connector trail to town.
Officials believe the sign that reads "Watch for Bicycles" was spray painted sometime between last Tuesday night and Wednesday morning.
Anyone with information that could lead to an arrest is asked to call the Versailles Police Department at (812) 689-6122.