UPDATED ARRANGEMENTS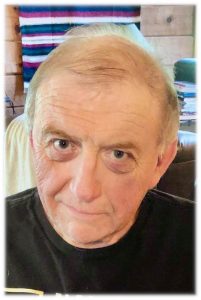 Michael "Mike" Wade Hall, 72, of Milan passed away Sunday, November 6, 2022 at home. Mike was born on Tuesday, February 14, 1950 in Hazard, Kentucky; son of Clay and Audrey (Singleton) Hall. Mike married the love of his life, Deborah (Redmond) Hall, on August 14, 1982. Mike worked as a process technician at INEOS of Addyston, Ohio. Mike was an Eagle Scout of Milan Troop 631 in the 60's and was honored with Order of the Arrow. He also played Milan football in high school, then went on to play for Michigan Football in 1968-1969. Mike proudly graduated from Indiana University in 1976 with a Bachelor of Science in Geology. Mike always enjoyed traveling and reading. He also worked in the oil industry for 17 years where he traveled all throughout the United States. Most of all, Mike especially loved his family, grandchildren, and pets.
Mike will be missed by his wife, Deborah Hall of Milan; children Daniel (Allison Hunnicutt) Hall of Greenfield, Joseph (Helen) Barclay-Hall of Indianapolis, Matthew (Cheyenne McMullen) Hall of Milan, Maura (Randy) Boze of Milan, Kathryn (Ekaterina Tihomirova) Hall of Indianapolis; siblings Gary Hall of Milan, Carol Jackson of Milan, Luwanda Hall-Lykens of Greenfield; uncle Dennis Singleton of Milan; and grandchildren Aaron Boze, Audrey Boze, and Joseph Boze.
Mike was preceded in death by his parents, Clay and Audrey Hall.
Family and friends may gather in remembering Mike from 10:00 AM-11:00 AM, Saturday, February 11, 2023 at the Laws-Carr-Moore Funeral Home in Milan. A Celebration of Life Service will immediately follow at 11:00 AM with Pastor Tom Holt officiating. Memorials may be given in honor of Mike to Milan Scholarship Foundation.
Laws-Carr-Moore Funeral Home has been entrusted with arrangements, 707 S.Main Street, PO Box 243, Milan, IN 47031, (812)654-2141. Please visit our website at www.lawscarrmoore.com to share your condolences and memories of Mike.