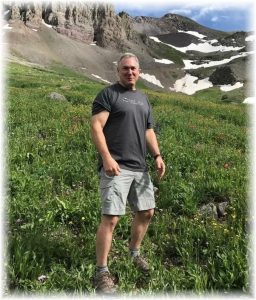 James Eric Krieger, 52, of Batesville, passed away near Vandalia, Illinois, on Tuesday, January 24, 2023.
He was born to parents Harry and Irene (Davis) Krieger in Batesville, Indiana on August 18, 1970. James was a 1989 graduate of Batesville High School and went on to graduate from Ball State University in 1994. He worked at Heartwood for 10 years and then started Krieger Furniture and Millwork.
James was an artist; his life's work was as a talented woodworker, and he leaves a legacy of his craftsmanship in many residential homes and commercial spaces from the East coast to the Rocky Mountains.
James worked really hard, but he also knew how to have fun!  He loved the outdoors and especially enjoyed snow skiing in British Columbia.  He was also a member of the F.J. Cruiser community and was involved in F.J. Cruiser Summits for about a decade.  He was responsible for coordinating the trail leaders at the annual events.
James is survived by his parents, Harry and Irene Krieger; siblings, Brenda Krieger, Bonita Hellmich (Fred), Rebecca Cottingham (Michael), John Krieger, and Michael Krieger; nieces and nephews, Paul Hellmich, Caitlin Shane, Adam Hellmich, and Alexandra Cottingham; great nephews, Michael and Patrick Hellmich.  James also had numerous friends throughout the United States; he was loved and will be greatly missed by everyone who knew him.
A visitation will be held on Wednesday, February 1, 2023 from 11:00 a.m. to 2:00 p.m. with funeral services beginning at 2:00 p.m. all at Meyers Funeral Home in Batesville, Indiana. Burial will immediately follow at Rossburg Cemetery in New Point, Indiana.
In lieu of flowers, donations may be made to Rossburg Cemetery by bringing to the services or mailing to Meyers Funeral Home, P.O. Box 202, Batesville, IN 47006.
You may leave a memory or message of comfort for the Krieger family in the online guestbook at www.meyersfuneralhomes.com.