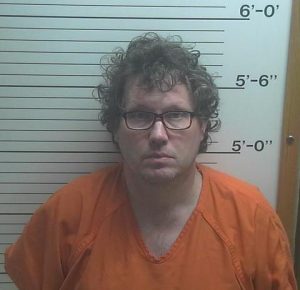 Lawrenceburg, IN — A 47-year-old West Harrison man has been charged with child solicitation after he was allegedly seen on a video trying to meet an underage boy for sex.
Dearborn County Sheriff Shane McHenry says last Thursday, January 19, detectives reviewed a Facebook video from January 15 that was posted by the private organization Predator Catchers Indianapolis (PCI) that showed a man who allegedly identified himself as Byron Caudill being confronted by PCI members outside a Walmart in Anderson.
McHenry says Caudill admitted in the video that he communicated with who he believed was a 14-year-old boy through the Grindr app and text messaging, and planned to meet the boy for sexual acts.
Dearborn County Detective/Sergeant Gena Allen spoke with Caudill last Friday, January 20 in the county's law enforcement center after he was arrested for parole violations.  Caudill allegedly told Allen that he intended to meet the boy and carry out the sex acts previously discussed in the messages.
Caudill was charged Thursday, January 25 with one count of Child Solicitation (Level 4 felony) in Dearborn Superior Court I.  At the initial hearing, Judge Jonathan Cleary set a $3 million cash bond for Caudill.
"I appreciate the information shared by the public that helped bring this case to light," said Sheriff McHenry. "The Dearborn County Sheriff's Office also thanks Indiana State Parole for their assistance with the investigation."