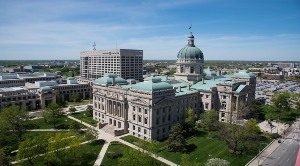 Statehouse — Decatur County lawmakers invite local students to spend a day serving as a House page at the Indiana Statehouse during the 2023 legislative session.
According to State Rep. Randy Frye (R-Greensburg), Hoosier students ages 13 to 18 can sign up to page, and assist lawmakers and staff with daily duties while touring the governor's office, the Indiana Supreme Court, and House and Senate chambers.
"This program provides a great learning experience to students during the most exciting time at the Statehouse," Frye said. "Pages engage with each other and with Indiana's lawmakers as we consider proposals for new laws."
State Rep. Lindsay Patterson (R-Brookville) said pages will receive an excused absence from school and can participate in groups.
"This program is an amazing tool to introduce young Hoosiers to their state government," Patterson said. "As a mom, I know that kids often learn best by doing. By paging, students can see firsthand how all three branches of government function and meet their elected officials."
State Rep. Jennifer Meltzer (R-Shelbyville) said Hoosiers can visit http://indianahouserepublicans.com/pageprogram or call 1-800-382-9841 to sign up their student to participate.
"As a mom and Girl Scout leader, I work with the youth in my community on a regular basis and strongly encourage all local students to sign up and participate in the page program," Meltzer said. "I look forward to welcoming young Hoosiers from House District 73 to the Statehouse."
Opportunities to page are available on Mondays, Tuesdays, and Thursdays throughout session, which began on January 9 and must conclude by the end of April.
Students are responsible for their lunch, and transportation to and from the Statehouse.
(Indiana House Republicans press release)