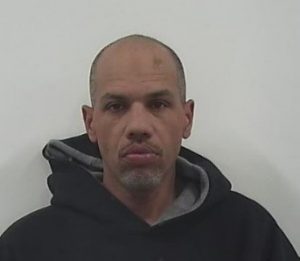 Greensburg, IN — Terry Criss Jr. of Anderson was sentenced on Tuesday to 11 years in prison by Decatur Circuit Judge Tim Day after pleading guilty to drugs and weapons charges.
Criss entered guilty pleas to Dealing in Methamphetamine (Level 3 felony) and Possession of a Firearm by a Serious Violent Felon (Level 4 felony). He also admitted to being a Habitual Offender.
This sentence will be served consecutively with any penalty Criss receives in four other felony cases in other counties.
Decatur County Prosecutor Nate Harter says Criss's criminal history dates back to 1992. Harter says Criss has a prior conviction for Class B Felony Child Molesting; 10 prior felony Theft convictions in other counties; felony Criminal Confinement, felony Resisting Law Enforcement, False Informing, Operating While Intoxicated, three convictions for Conversion, and three Battery convictions.
Harter is recognizing the officers who responded to the initial call last February and launched the investigation, including Greensburg Police Department Officers Peyton Gerkin, Matt Terkhorn, Jacob Mays and K9 Kato, and Detective Mike Colson.
"This result was obtained by strong police work. An after-midnight call for service for an unresponsive male at the Speedway gas station turned into an investigation into Mr. Criss's drug dealing activity, which he described in detail later to Detective Colson. I think justice was done here, especially given that Mr. Criss has four other felony cases in other counties to resolve, in addition to our 11-year sentence," Harter said.