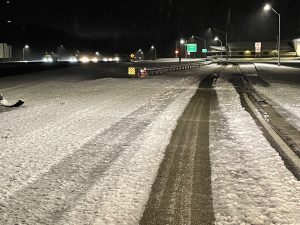 Southeastern IN — Several inches of snow fell on the area overnight and into Wednesday morning, which left behind snow-covered roads.
Travel advisories and watches were issued due to slippery road conditions. You can check your county's travel status by visiting the Indiana Department of Homeland Security's website.
The Franklin County Sheriff's Office is reminding residents that when commissioners issue travel advisories, watches, and warnings, those restrictions include ATVs and UTVs on local roads. Deputies say they want your help in keeping highway workers safe.
U.S. 52 near Elkhorn Road in Franklin County was closed for nearly an hour overnight because a semi was blocking the road.
State Road 1 at Old State Road 1 was blocked for nearly 45 minutes this morning due to stuck semis.
INDOT called out nearly 1,000 trucks across the state overnight, and INDOT Southeast had a full call out of 150 trucks to clear roads and highways. The agency says if you have to travel this morning, please give the plows room to work. You can check out area road conditions and live views from the snowplows at 511in.org.