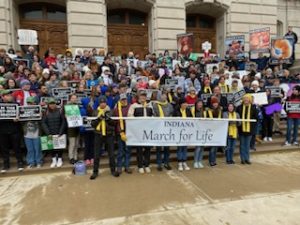 Indianapolis, IN — Sixty Oldenburg Academy students, along with teachers and parents, took part in the Indianapolis March for Life on Monday.
OA students carried the banner leading the march downtown, which ended at the Statehouse.
Senators Todd Young (R-IN) and Mike Braun (R-IN) took part in the rally and addressed the crowd.
It was the first March for Life since the U.S. Supreme Court overturned Roe V. Wade.