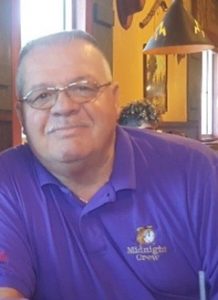 Charles E. "Chuck" Land, 71, Greensburg, Indiana, passed away peacefully with his family by his side Sunday, January 22, 2023, in Columbus.
Born, March 11, 1951 in Greensburg, Indiana, he was the son of Ralph E. and Luella M. (Buell) Land.
Chuck was a 1969 graduate of Middletown High School in Ohio.  He served his country as a member of the Air Force.  Chuck worked for several years at Delta Faucet and at the same time managed Lake McCoy.  He recently could be found working at Rural King in Greensburg.
He was a member of the Eagles Lodge and the American Legion.  He enjoyed taking care of the horses, fishing, dancing at the Eagles, and most of all spending time with his family.
He is survived his partner, Jan Miller, Greensburg; two children, Candi Witkemper, Greenwood and Chad (Heather) Land, Shelbyville; five grandchildren, Madison Fields, Emma Witkemper, Harlee Rae Land, Haylee Mae Land, and Darbey Gehlenborg; two nieces, Stephanie Aultman and Melissa Dubois.
He was preceded in death by his parents and one sister, Terry Graue.
Visitation for family and friends will be held on Thursday from 4 to 7:00 p.m. at the Porter-Oliger-Pearson Funeral Home in Greensburg. Funeral Services will be held at the funeral home on Friday, January 27, 2023 at 11:00 a.m. with Jon Porter officiating. Interment will follow at the South Park Cemetery in Greensburg. Memorials may be made to the (DAV) Disabled American Veterans.  Online condolences can be made to the family at www.popfuneralhome.com