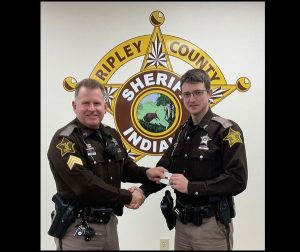 Ripley County, IN — A Ripley County deputy has been awarded the Sheriff's Office's Life-Saving Medal.
Deputy Conrad Reichert responded last year to a call in which an 8-year-old child was not breathing.
Deputy Reichert assisted the family in performing CPR on the child.
As a result of their combined efforts, the child survived and has made a full recovery.
Sergeant Corky Houseworth and Deputy Conrad Reichert