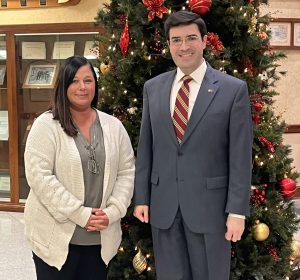 Versailles, IN — Ginger Bradford has resigned as Ripley County Clerk and one of her former deputies Liz Baumgartner was elected to the post during a Republican Party caucus Monday night in the Commissioners Room at the Ripley County Courthouse.
Baumgartner will serve the remainder of Bradford's unexpired term, which ends on January 1, 2025.
Bradford is also a former county Assessor and served as the longtime Ripley County Republican Party chair.
Party Chairman John Moton, the Central Committee, and county GOP are thanking Baumgartner for her willingness to serve Ripley County residents. Moton said he looks forward to her experienced leadership with the courts and good stewardship of local elections.
He also thanked Bradford for her many years of service to Ripley County.
"I appreciate her leadership and mentorship and I wish her well in her retirement," Moton said.