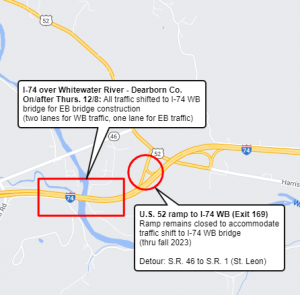 Dearborn County, IN — Indiana Department of Transportation contractor Milestone Contractors LP plans to shift traffic later this week at the I-74 bridges over the Whitewater River in Dearborn County.
The bridges are located just under a mile west of U.S. 52 near the Ohio state line.
On or after Thursday, December 8, all I-74 traffic will be moved to the new westbound bridge.
Two lanes will be available for westbound travel, and one lane for eastbound.
Work will continue on the superstructure replacement project through the winter months as weather allows, including the demolition of the eastbound bridge.
The U.S. 52 ramp to I-74 WB (Exit 169) closed in early 2022 to accommodate work on the westbound bridge.
This ramp will remain closed for the duration of the project as all traffic is shifted to the new bridge.
Drivers may access I-74 WB via the official detour route, which follows State Road 46 to State Road 1 at St. Leon.
The $24.8 million contract was awarded to Milestone last year and includes replacing superstructures on both I-74 bridges.
The overall completion date is June 25, 2024, with an intermediate completion date for both bridges in the fall of 2023.
Motorists are reminded to slow down, use extra caution, and drive distraction-free in and near all work zones.
All work is weather-dependent and schedules are subject to change.
(Indiana Department of Transportation press release)