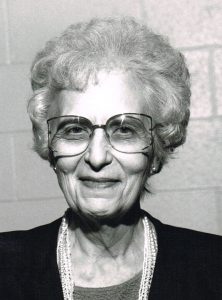 Ruth G. Wingate, 94, Greensburg, passed away on Sunday, November 4, 2022, at Aspen Place Health Campus in Greensburg.
Born, May 17, 1928 in Greensburg, she was the daughter of Charles Henry and Clara Marguerite (Spillman) Beatty.
Ruth graduated from Greensburg High School in 1946 and then attended General Motors Accounting School. She retired from Cinergy / PSI in 1996 after 28 ½ years as secretary and administrative assistant.
She served two terms as president of the Decatur County Homemakers Association, served on the County Extension Committee and as a 4-H leader.  She served as secretary of the Greensburg Women's Bowling Association for many years. Ruth was a charter member of the Board of Directors of the Arts & Cultural Council of Decatur County and an honorary lifetime member of the Southeastern Indiana Builders Association.
She worked several years with the Partners in Education at Billings Elementary and was a member of the Friends of the Library.  She also had served as a member of the Cheer Fund, the local chapter of the Red Cross, the Gray Ladies at the Decatur County Memorial Hospital, and the first Greensburg D.A.R.E. Council.
She is survived by one son, Gary Lynn (Nenita) Colson; daughter-in-law, Donna Colson; grandchildren, William Colson, James Colson, AnnaLynn Flynn, Derek Colson, Dana Staker; great grandchildren, Haley Colson, Hayden Colson, Jordan Colson, Nathaniel Colson, Aiden Colson, Chloi York, Carson Flynn, Conner Flynn.
She was preceded in death by her parents, one son, David Alan Colson; brother, Charles Leroy Beatty; great granddaughter, Taylor Nicole Colson.
Funeral arrangements have been entrusted to Porter-Oliger-Pearson Funeral Home in Greensburg.  There will be no public services and a private burial will be held in the St. Mary's Cemetery in Greensburg.
In lieu of flowers contributions may be made to "Friends of the Library", "Arts and Cultural Council", or "National Arthritis Foundation". Online condolences can be made to the family at www.popfuneralhome.com