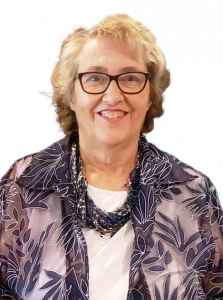 Mrs. Janet C. (Cook) Boggs, age 77, of Vevay, Indiana, entered this life on September 17, 1945 in Quercus Grove, Indiana. She was the loving daughter of the late Harold "Babe" and Mildred Lucille (Pease) Cook. She was raised in Quercus Grove and was a 1963 graduate of the Patriot High School. Janet was united in marriage on December 27, 1968 to Larry Wayne Boggs at the Quercus Grove United Methodist Church. Janet and Larry shared nearly 50 years of marriage together and was blessed with two sons, Michael and Mark. Janet was a former secretary for the 4-H Extension Office at the Switzerland County Courthouse. She was employed as a secretary for Benedict Coal & Oil Business in Vevay, Indiana from 1974 – 1979. Janet was also employed for Swiss Supermarket in Vevay, Indiana from 1979 – 1985. Janet was also the secretary for Boggs Tax Service for over 50 years. Janet formerly attended the Switzerland Baptist Church and was attending St. Peter's Lutheran Church in Bear Branch, Indiana. Janet enjoyed hummingbirds and bowling, as well as, supporting her grandchildren and attending their sporting events. Janet passed away at 3:44 a.m., Saturday, December 3, 2022, at the Hospice Care of Saint Elizabeth in Edgewood, Kentucky.
Janet will be lovingly remembered by her sons, Michael Boggs and his wife, Christy of Johnson City, TN and Mark Boggs and his wife, Lee Ann of Vevay, IN; her grandchildren, Austin Boggs and his wife, Wyona, Alec Boggs, Kyle Neubert, Katy Neubert, Carlee Boggs and Claire Boggs; her great-grandchildren, Amelia Boggs, Patton Boggs and Eve Boggs; her sisters-in-law and brothers-in-law, Lois Cook of Sellersburg, IN, Dawn Boggs Elston of Pendleton, IN, Jerry and Linda Boggs of Bonita Springs, FL and Ernie Johnson of Rising Sun, IN and her several nieces and nephews.
She was preceded in death by her father, Harold Cook, died January 1961; her mother, Mildred (Pease) Cook, died in 1949; her husband Larry Wayne Boggs, died March 26, 2018; her brothers, William "Willie" Cook and Harold Lloyd Cook; infant brother, Lewis Cook; her sisters, Mary Ann Scudder and Donna Johnson; her sisters-in-law, Shirley Mae Cook and Elma Marie Cook; her brothers-in-law, Lawrence "Dillion" Elston and Delbert Scudder; her nephews, Grant Boggs, Ronald Dean Cook and Terry Cook; her nieces, Jennifer Boggs and Damita Elston and her great-nephew, Trevor Boggs.
Visitation will be held from 4:00 p.m. – 8:00 p.m., Friday, December 9, 2022, at the Haskell & Morrison Funeral Home, 208 Ferry Street, Vevay, Indiana 47043.
Funeral services will be conducted Saturday, December 10, 2022, at 10:00 a.m., by Pastor Mona Safley, at the Haskell & Morrison Funeral Home, 208 Ferry Street, Vevay, Indiana 47043.
Interment will follow in the Vevay Cemetery, Vevay, Indiana.
Memorial contributions may be made to the St. Peter's Lutheran Church, Larry W. and Janet C. Boggs Endowment Fund c/o CFSCI or Hospice Care of St. Elizabeth. Cards are available at the funeral home or online at www.haskellandmorrison.com