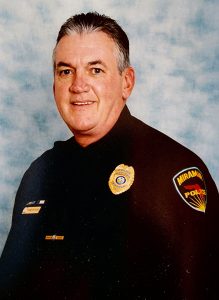 Mr. William A. "Bill" Robertson, age 73, of Vevay, Indiana, entered this life on February 3, 1949 in Cincinnati, Ohio. He was the son of the late John James and Betty Jane (Nugent) Robertson. He was raised in Cleves, Ohio and was a 1967 graduate of Taylor High School. Bill also attended the University of Cincinnati where he studied criminal justice for three years. Bill was united in marriage on October 4, 1986 to Colleen Marie Kane in Miramar, Florida. Bill and Colleen shared over 36 loving years together. Bill resided the majority of his adult life in South Florida spending 38 years with the city of Miramar where he was employed as a police officer. Bill was the face and voice of the Miramar Police Department as the public information officer as well. Upon retirement in 2008, Bill and Colleen relocated back to the Midwest residing in Vevay, Indiana where he enjoyed the change of seasons once again along with hunting, golfing and fishing with his friends, as well as, being able to spend more time with family. Bill will be lovingly remembered for his sense of humor and ability to laugh. Bill passed away at 7:10 p.m., Thursday, December 1, 2022, at his residence.
Bill is survived by his wife, Colleen Marie (Kane) Robertson of Vevay, IN; his son, William "Beau" Robertson of San Francisco, CA; his daughter, Michelle of OH; his sisters, Sandy Brown of Aurora, IN and Jayne Bailey of Cleves, OH; his aunt, Charlotte "Aunt Jean" Caniano of Milan, IN; his grandchildren and his nieces, nephews and cousins.
He was preceded in death by his parents, John James and Betty Jane (Nugent) Robertson; his brother, John "Butch" Robertson and his nephew, Jared Brown.
A Celebration of Bill's Life will be held at a later date.
In lieu of flowers, memorial contributions may be made to the Switzerland County Emergency Response Unit. Cards are available at the funeral home or online at www.haskellandmorrison.com