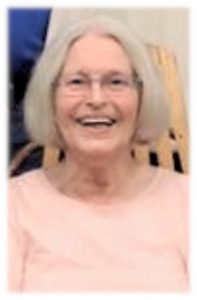 Grace M. (Miller) McKeown, 83, of Milan passed away Friday, December 2, 2022 at The Christ Hospital in Cincinnati, Ohio. Grace was born on Wednesday, September 20, 1939 in Cincinnati, Ohio; daughter of Jerome and Doris (Proud) Miller. Grace married John McKeown on August 19, 1957 and he preceded her in death on June 28, 1993. Grace was a factory worker for PMC Enterprise in Osgood and Hill-Rom, then later working at Wal-Mart. She enjoyed working puzzles, knitting, reading, and playing euchre. Her greatest joy was spending time with family.
Grace will be missed by her sons David Scott (Phyllis) McKeown of Sunman, Steven (Angela) McKeown of Moores Hill, Jerry (Sheila) McKeown of Dillsboro, Kelly (Lisa) McKeown of Milan, and Kevin (Holly) McKeown of Milan; brother Dave Miller of Cincinnati, Ohio; sisters Joyce Miller of Cincinnati, Ohio, and Nancy Jungkunz of Pickerington, Ohio; twenty-three grandchildren; and forty-seven great-grandchildren.
Grace was preceded in death by her parents, Jerome and Doris Miller, husband John N. McKeown, son John M. McKeown, grandsons Steven Allen McKeown II and Timothy Wade McKeown, and brother-in-law Vincent Jungkunz.
Services will be held at the convenience of the family. Memorials may be given in honor of Grace to the Milan Volunteer Fire Department.
Laws-Carr-Moore Funeral Home has been entrusted with arrangements, Box 243, Milan, IN 47031, (812) 654-2141. Please visit our website at www.lawscarrmoore.com to share your condolence and memories of Grace.