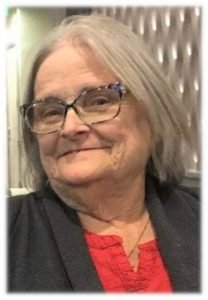 Glenda Gale Fields, 73, of Moores Hill passed away Friday, December 2, 2022 at her home in Moores Hill. Glenda was born on Friday, October 21, 1949 in Coeburn, Virginia; daughter of Claude and Melvina (Burke) Stallard. Glenda worked for the Community Mental Health Center in Lawrenceburg. Glenda was a member of the Holman Christian Union Church. She enjoyed gardening, reading, traveling, cooking, and baking. Her greatest enjoyment was spending time with her family, especially her grandchildren.
Glenda will be missed by her sons John (Amanda) Benham of Dillsboro and Kenny (Shannon) Benham of Versailles; daughters Patricia (Doug) Whitaker of Aurora, Christina Beasley of Moores Hill, and Tayler Benham of Moores Hill; brother Timmy Anderson; sisters Sue Sanders, Brenda Wilsey, and Tina Hill; grandchildren Jessica, Wesley, Andrew, Morgan, Tyler, Zachary, Brody, Allee, Maddie, Macie, Marlie, Myles, Alyssa, and Josh.
Glenda was preceded in death by her parents, Claude and Melvina Stallard,  three sisters, and two grandchildren Eric and Kinley.
Family and friends may gather in remembering Glenda from 10:00 – 11:00 AM Tuesday, December 6, 2022 at the Holman Christian Union Church, 12020 N. Hogan Road, Aurora, IN 47001. A service will immediately follow at 11:00 AM with Pastor Mike Addison officiating. Memorials may be given in honor of Glenda to Holman Christian Union Church.
Laws-Carr-Moore Funeral Home has been entrusted with arrangements, Box 243, Milan, IN 47031, (812) 654-2141. Please visit our website at www.lawscarrmoore.com to share your condolences and memories of Glenda.