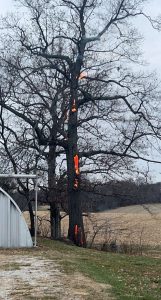 Decatur County, IN — Firefighters from several area departments had their Thanksgiving interrupted when they responded to a fire in a large tree Thursday evening on US 421 near County Road 400 South in Decatur County.
Crews arrived on the scene and found a large hollow tree that officials say was burning fully from the ground to the top, and that the chimney effect enhanced the fire.
There were a number of challenges in safely putting out the blaze, including the fact that the tree was close to a building, and the tree was unstable and leaning toward the building.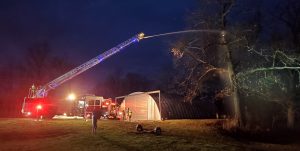 A ladder truck from the Greensburg Fire Department was called in to apply water to the top of the tree (pictured).
Also responding were the Napoleon and Marion Township volunteer fire departments.
There were no injuries reported.
It's not clear what touched off the fire.