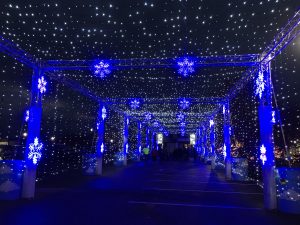 Batesville, IN — The Batesville Area Arts Council and the City of Batesville have announced that a new winter visual display will be installed downtown in time for the holidays.
Batesville Sky-Winter Wonder will consist of a 200-foot lighted tunnel on the former Umbrella Sky structure in the Village Green parking area.
The display will be up starting next Friday and will be there for all to enjoy until February 28.
Also taking place next Friday night at 6:00 will be the Batesville Area Chamber of Commerce Christmas Parade, followed by the City of Batesville Tree Lighting.