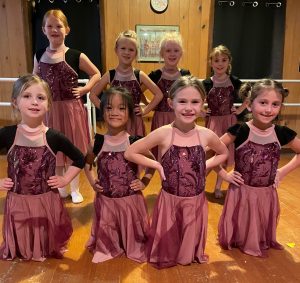 Batesville, IN — Southeastern Indiana Dance, Inc. is pleased to announce its winter concert is scheduled for Sunday, December 11, 2022, at the East Central High School Performing Arts
Center. There is a $5.00 admission fee.
The theme for this concert is "The Nutcracker Rocks."
"We haven't really done a Christmas-themed concert in several years, so everyone is very excited," said Director Lydia Woodward. "It will be a very enjoyable afternoon!"
The concert includes ballet, modern, musical theater, jazz, hip-hop, and tap dances.
Additionally, three solos will be presented.
Choreography is by Woodward, Emme Belew, and Amber Roszell.
Students from Batesville, Oldenburg, Hamburg, Greensburg, Brookville, Milan, Rushville, Osgood, Moores Hill, Napoleon, Laurel, St. Paul, and Holton range in age from 4-18.
They include Harper Armstrong, Zoe Atkinson, Riley Balser, Margo Blanco-Yeaton, Breanna Bohman, Taylor Bolling, Talyan Burkhart, Magdalena Candelot, Laykin Carman, Sophie Cassidy, Madelyn Comparone, Elaina Dierckman, Haley Feiss, Charity Frommeyer, Delaney Gibson, Joslyn Gilland, Addison Glaub, Leah Goodin, Maddison Gray, Laine Greathouse, Adison Gunter, Abigail Hartz, Sophia Hillenbrand, Kaylee Hochstetler, Mia Hofer, Abigail Hoff, Sarah Hunter, Milena Jobst, Taylor Kennedy, Monroe Kennedy, Stella Lecher, Sophia Leinberger, Addi Lemmel, Sizhe Li, Frankie Mains, Stacey McCabe, Kenzie McCabe, Katy McKell, Zoiee Moeller, Gwen Moorman, Clara Naville, Cate Neuman, Lila Obermeyer, Lucy Obermeyer, Evelyn Ollberding, Frankie Organ, Annie Patterson, Claire Patterson, Amy Perry, Myka Perry, Ava Pierson, Hailey Pierson, Aubrey Pigmon, Piper Pindell, Carmen Rauch, Evelynn Rauch, Tess Rennekamp, Kendal Ryan, Aleyah Shadday, Myla Shadday, Ava Smith, Amelia Spielmann, Penelope Spielmann, Briella Strelnik, Bea Thompson, Abe Trossman, Charlotte Trossman, Jonah Trossman, London Tuttle, Scarlett Tuttle, Presley Vanderpool, Leigh Walmsley, Abigail Weigel, and Layla Wilhoit.
Southeastern Indiana Dance, Inc., located in downtown Batesville, is a 501(c)(3) not-for-profit corporation.
For more information, please contact Lydia Woodward at (812) 932-2046.
(Southeastern Indiana Dance, Inc. press release)