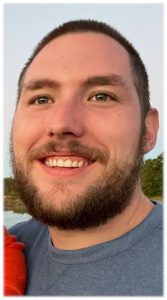 Trenton Charles Schoster, 27, of Versailles, Indiana passed away Sunday, November 20, 2022 at his parents' home. Trenton was born on Wednesday, January 18, 1995 in Cincinnati, Ohio; son of Andrew and Julie Ann (Burgess) Schoster. Trenton married the love of his life, Haley (Higham) on October 3, 2020. Trenton was a stationary engineer at the University of Cincinnati power plant. Trenton enjoyed walking through the woods and learning about space. He also enjoyed watching U.C. Football. Most of all Trenton cherished spending time with his family.
Trenton will be missed by his wife, Haley Schoster of Versailles, Indiana; daughter Kamryn Schoster of Versailles, Indiana; and expected child of June 2023; parents Andrew (Julie) Schoster of Aurora, Indiana; in-laws Chris (April) Higham of Dillsboro, Indiana; sister Johanna (Travis Patton) Schoster of Aurora, Indiana; sister-in-law Meghan Higham of Dillsboro, Indiana; nephew Wade Patton; and grandparents Paul and Joann Schoster.
Trenton was preceded in death by grandparents Charles and Annette Burgess.
A Celebration of Life will be held at a later date. Memorials may be given in honor of Trenton to Narcotics Anonymous at https://m.na.org/?ID=contribute-now.
Filter-DeVries-Moore Funeral Home has been entrusted with arrangements, Box 146, Dillsboro, IN 47018, (812)432-5480. Please visit our website at www.filterdevriesmoore.com to share your condolences and memories of Trenton.