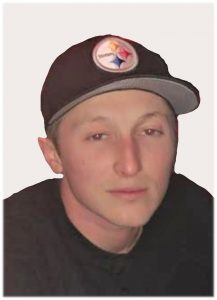 Louis, "Rocky," Phillip Annis, 36, of Milan, currently living in Harrison, Ohio, passed away Tuesday, November 22, 2022, at his mother's home. Rocky was born on Wednesday, May 21, 1986 in Cincinnati, Ohio; son of Anthony Annis and Gina (Vogt) Eschman. Rocky was an avid Steelers fan and enjoyed watching football. He also enjoyed shooting pool and spending time with his family. Rocky also attended New Vision Church of Harrison, Ohio.
Rocky will be missed by his parents Gina (Vogt) Eschman of St.Leon, Indiana, Jeff Bischoff of St.Leon, Indiana, Dave Eschman, of Erlanger, Kentucky, and Anthony "Tony" Annis of West Harrison, Indiana; brothers Joshua (Misty) Vogt of Harrison, Ohio, and Aaron Annis of St.Leon, Indiana; uncles Johnny Ray Vogt, Tom Gillespie, and Jeff Vogt; aunts Lisa Vogt and Teresa Gillespie; maternal grandparents Edna (Harold) Himes of Okeana, Ohio and Harold (Wanda) Vogt of Oldenburg, Indiana; along with many cousins, nieces, and nephews.
Rocky was preceded in death by his grandparents Paul Gillespie, William Annis, and Phyllis Annis.
Family and friends may gather in remembering Rocky from 5-7 PM Wednesday, November 30, 2022 at the Laws-Carr-Moore Funeral Home in Milan. Since Rocky enjoyed spending his time watching NFL football, the family is requesting those attending the visitation to please wear their favorite NFL shirt.  A service will immediately follow at 7:00 PM with Pastor Tom Gillespie officiating. Memorials may be given in honor of Rocky to the American Diabetes Association or to the family.
Laws-Carr-Moore Funeral home has been entrusted with the arrangements; 707 S. Main St, PO Box 243, Milan, IN 47031, (812)654-2141. Please visit our website at www.lawscarrmoore.com to share your condolences and memories of Rocky.