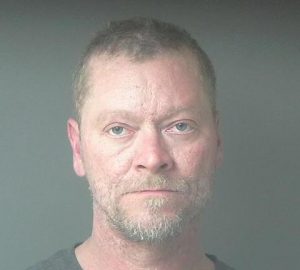 Metamora, IN — A Metamora man is facing several charges in connection with a stabbing Sunday evening.
Franklin County Sheriff's deputies were called around 5:30 pm to the 19,000 block of Stacy Road in Metamora and discovered a man in his 20s suffering from a stab wound.
Deputies and first responders provided first aid to the victim, who was later flown by medical helicopter to UC Medical Center.
As a result of the investigation, 46-year-old Clinton Wayne Patrick was identified as a suspect, and – with the help of the Fayette County Sheriff's Office and tips from the public – Patrick was arrested around 8:00 Monday morning at a home in Fayette County.
He's facing preliminary charges of Burglary (Level 2 felony), Battery with a Deadly Weapon (Level 5 felony), and Domestic Battery (Class A misdemeanor).
Patrick is being held without bond in the Franklin County Security Center.
Deputies say this was an isolated incident and that no other suspects are being sought.
Investigators are not releasing a motive for the stabbing.
Once the investigation is concluded, deputies will forward their findings to the Franklin County Prosecutors Office for consideration of what, if any, formal charges would be filed against Patrick.
If convicted of the Level 2 felony burglary count, Patrick could face a maximum of 30 years in prison and up to $10,000 in fines.