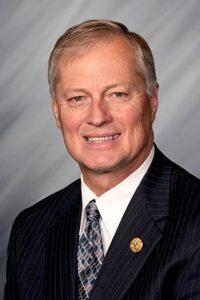 Statehouse — It is Organization Day at the Indiana Statehouse.
"The Speaker of the House is sworn in. Also, the Clerk of the House is sworn in. Those are two different procedures that take place," said State Rep. Randy Frye (R-Greensburg). "Then, there will be a speech given by the Speaker, which traditionally sets the tone for the upcoming  session."
Todd Huston (R-Fisher) was chosen again to serve as Speaker of the Indiana House.
"There will be a great deal of discussion on the topics of interest from the Speaker's perspective – what are we going to tackle, in addition to the budget? What we believe needs to be looked at, or changed and updated, and he'll lay out that agenda," Frye added.
Since 2023 is the year lawmakers craft the biennial budget, this will be a long session that will run until the end of April.
In addition to the budget, Frye believes property taxes will also be considered by legislators.
"Several years ago, we built property tax caps, but I don't think anyone foresaw the inflation rate that we're dealing with where property values, home values are 10- to 20 percent higher than they were a year ago," Frye said." That's unheard of."
Frye said he's working on a bill that is being championed by the Indiana Fraternal Order of Police.
"If you are convicted of critically or fatally injuring a police officer, you will serve every second of your sentence (under the proposal). There will be no time off for anything," Frye said.
Organization Day is considered the formal start of the 2023 legislative session.
State Rep. Randy Frye was a guest on Monday's edition of WRBI's The Daily Pod.
Click here to listen to the entire interview.