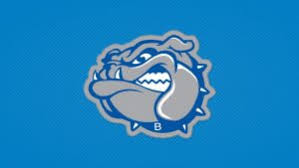 The Batesville boy's 8th-grade basketball team hosted the Franklin County Middle School Wildcats Monday night. The Bulldogs came away with a 43-23 victory. The Bulldogs jumped out to first quarter lead of 17 to 1 and controlled the game throughout. At halftime, the score was 25 to 6. The win gives the 8th-grade team a record of 6 wins and 1 loss on the season.
Scoring for the Bulldogs were Kamryn Holcomb with 7, Jevan "Buckets" Smith with 3, Isaac Weber with 6, Caleb Laker with 4, Carson Hartley with 4, Rylan Yeager with 2, James Hughes with 4, Preston Blessing with 2, Braydin Hughes with 8, Ian Hixson with 1, and Cole Abrams 2.
The Bulldog's next game is Monday, November 28th as they host Connersville and then they travel to North Decatur on Tuesday, November 29th
Submitted by the school's athletic department.